DAF XF SERIES
CREATED TO PERFORM
COMFORT WITH STYLE
THE CLEAN ROUTE
AUTOMATED TRANSMISSIONS
A SOLID FOUNDATION
SUPERB HANDLING....
BUILT TO HANDLE ANYTHING
The DAF XF Series has earned a great reputation among drivers and operators alike. For the stylish yet sturdy exterior, the spacious and comfortable cab with easy access, the class-leading ride and handling, the superior efficiency and well-proven reliability and durability. How do you improve such a superior product? That was the challenge for DAF's design team.
As always, they have succeeded in making the best even better: the XF Series.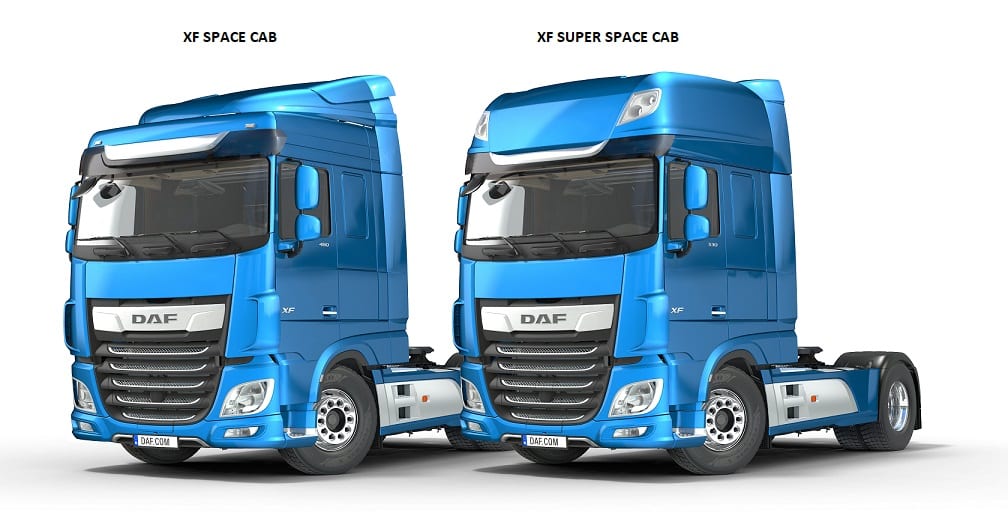 SPOILED FOR CHOICE
Designed for a wide range of applications, the DAF XF Series is available in three and four axle configurations, double drive. With its range of highly efficient PACCAR MX engines, stylish and comfortable cabs, strong but lightweight chassis which is body builder-friendly as well as a host of technical and aesthetic improvements, the versatile XF Series is designed to perform. An efficient all-rounder, providing operators with a secure foundation for low operating costs and high revenues.
BETTER BY DESIGN
In line with DAF's proven design philosophy – 'driven by quality' – operators and drivers alike will benefit from new design and safety features as well as comfort and driveability. The integrated fog lights, distinctive grille mesh and new cab badging give the XF that little extra touch that makes a modern design even more so. The interior of the new XF features new colours and trim, a new driver instrument panel and a steering wheel with integrated controls and airbag.
EFFICIENT AND CLEAN
The XF Series features a wide choice of efficient drivelines for high performance with fuel economy in every application. The DAF designed and produced PACCAR MX-13 engines meet the stringent Euro 6 emission standards. In addition, TraXon automated gearboxes are now standard throughout the XF range for even greater fuel economy and comfort..
Vehicles in the XF-segment are used intensively, often in heavyduty applications. The wide range of applications places considerable demands on the chassis. The robust, flat-topped chassis design is the basis of a wide range of axle configurations, wheelbases and specifications. The result: a multifunctional chassis that provides a solid foundation for every application.
EXCEPTIONALLY STRONG

The robust XF chassis is made of high quality steel, resulting in an exceptionally strong but lightweight chassis for high payloads. It is completely flat, making it the perfect base for any superstructure. To make the body builder's job as easy as possible, the main frame members are pre-drilled to ensure easy mounting of the body. A Body Builder's Module (BBM) can also be provided to facilitate communication between the electric systems of vehicle and body. There are a range of Power Take Off (PTO) options available, including front end, gearbox and engine PTOs for a wide range of applications.
SMART CHASSIS DESIGN
The XF chassis is available in a variety of wheelbases, chassis and axle configurations. The chassis shape, layout and positioning of components is designed to minimize vehicle weight and maximize available space. Many components are mounted on the inside of the chassis frame, leaving ample space for the fitment of crane legs, twist locks, hydraulic tanks, tool boxes and other additional equipment.
AXLE CONFIGURATIONS
The XF series offers two different axle configurations, 6×4 tractor and 8×4 rigid or tractor combinations.
Market-leading fuel efficiency starts with the engine. The DAF XF is powered by multi-torque PACCAR MX-13 engines with power ratings, including an extra powerful 390 kW/530hp variant. Many innovations result in even more torque at lower rpm for highest fuel efficiency. Vehicles can now cruise at only 1,000 rpm, resulting in extremely low noise levels found in top class luxury cars. Additional torque is available in top gear for great driveability. The MX engine brake delivers world-class braking power at lower revs.
13 LITRE MX ENGINE
The XF is equipped with the PACCAR MX engine, available in 13 litre 430, 480 and 530 hp versions with high torques ranging from 2,300 up to 2,600Nm. An integrated MX engine brake is standard across the range, providing excellent engine brake performance from 280kW at 1,500rpm to 360kW at 2,100rpm.
DAF ENGINE TECHNOLOGY
The Euro 6 PACCAR MX engine uses ultra-modern common rail technology, a turbo with variable geometry and advanced controls for maximum efficiency. In order to comply with the strict Euro 6 emissions requirements, it features exhaust gas re-circulation, together with SCR technology and an active soot filter.
Six-cylinder in-line turbocharged diesel engine with intercooling. Ultra clean combustion with Exhaust Gas Re-circulation (EGR), Diesel Particular Filter (DPF) and Selective Catalytic Reduction (SCR) after treatment for Euro 6 emission levels.
The engines provide additional torque at low revs in the highest gear for direct drive gearboxes and in the two highest gears for overdrive gearboxes to support lower fuel consumption of the vehicle.
HOW DOES IT WORK?
It's simple and effective. Basically the exhaust gas after-treatment system consists of a catalytic converter, a dosing unit and an AdBlue tank with sufficient capacity to match the range offered by the fuel tank. The exhaust gases are lead through the Selective Catalytic Converter, where AdBlue is added. A chemical process takes place, resulting in NOx emissions being broken down into harmless water vapour and nitrogen. AdBlue consumption is only 4 to 6% of the diesel consumption.
XF ENGINE OVERVIEW

An economical engine is only the starting point for an efficient driveline. Gearbox and rear axle are equally important when it comes to efficiency and keeping cost per kilometre as low as possible. That is why DAF has been focusing for many years on integrated driveline technology. The drivelines in the XF Series are further proof of this philosophy.
GEARBOX SELECTION
The latest generation of TraXon automated gearboxes are standard on the CF series. Less friction losses, even faster upshifts and the extended use of EcoRoll contribute to lowest fuel consumption, whereas driver comfort is enhanced thanks to its quiet and smooth operation and precise clutch actuation. This generation TraXon automated transmissions also provide a wider ratio spread enabling even faster drivelines. Among the unique characteristics of the TraXon gearbox are the dedicated software settings which are available for heavy haulage and liquid transport applications.
RELIABLE, ECONOMIC REAR AXLES
In addition to superlative engines and gearboxes, the CF has high efficiency rear axles with low-friction wheel ends. What's more, a range of faster ratios starting from 2.05 enable even lower engine rpm's for highest fuel efficiency. To reduce friction losses, we have introduced grinded differential gear sets and added bearings and seals in the rear axle along with low-level, low-friction rear axle oil.
The CF series has a range of DAF single reduction rear axles. These axles have earned an excellent reputation for long service life, excellent reliability, and above all, low internal resistance. This means less energy losses in the driveline resulting in better fuel consumption. The wide range of rear axle ratios facilitates selecting exactly the right driveline for each individual application.
Incorporating the latest in air-ride technology and the highest quality materials, these remarkably durable suspension systems weigh less than comparable alternatives, contain substantially fewer parts for increased reliability and they are virtually maintenance-free, with no periodic adjustments or lubrication required.
The new XF builds on the excellent standards of driver comfort for which DAF's top-of-the-range truck is renowned for worldwide. It offers the biggest interior space available on the market, the best and largest bunks. New warm and tasteful sand colours for dashboard, seats, curtains, mattresses and side and back walls give the interior a great appearance in which every driver feels comfortable and at home. The new Exclusive line is the ultimate in luxury and comfort. It is distinguished by the cognac colored dashboard and door panels, as well as the stylish vents with aluminium look. A 6-star working and living environment. The New XF: the best a driver can get!
FLAGSHIP STANDARDS
DAF's flagship sets totally new standards when it comes to interior design. New standards in the materials and colours which have been chosen, new standards in space and its use, new standards in quality, fit and finish and ergonomics. The driver was always the most important consideration during the design phase for the XF. That's true of the attractive door trim to the modern instrument panel, from the logically positioned handles and switches to the numerous storage facilities or the comfortable steering wheel.
COMFORTABLE LUXURY
The DAF XF cab interior breathes quality and a well-considered design in every single detail. Consider the clever utilisation of the enormous space inside, the harmonious styling, the careful choice of materials and the tasteful colours.
Make yourself comfortable in the luxury seat behind the steering wheel. The elegant dashboard curves around you, with all driving controls within easy reach. The central LCD display keeps you informed about all vital vehicle functions.
Feel relaxed during night drives with the pleasant indirect amber lighting of the cab floor and ceiling. Experience the freedom of movement on the near flat cab floor, free of obstacles.