ELEVATED DRIVER EXPERIENCE
Evolved, refined, technologically advanced, the new K220 takes the driver experience to the Next Level.
CONFIGURATION
6 x 4
8 X 4 / 8 X 4 TANDEM WITH LAZY AXLE / 8 X 6
10 X 4 TANDEM WITH LAZY AXLE / 10 X 6
ENGINE
CUMMINS X15 EURO 5 – 485 HP / 1650 LB-FT TORQUE
CUMMINS X15 EURO 5 – 485 HP – 600 HP / 1850 LB-FT TORQUE
CUMMINS X15 EURO 5 – 550 – 600 HP / 2050 LB-FT TORQUE
CUMMINS X15 EURO 6 'EFFICIENCY' – 550 – 580 HP / 2050 LB-FT
X15 EURO 6 'PERFORMANCE' – 525 – 625 HP 1850 / 2050 LB-FT
TRANSMISSION
MANUAL – EATON 18 SPEED / 1850 / 2050 / 2250 LB-FT TORQUE
AUTOMATED MANUAL TRANSMISSION (AMT) – ULTRASHIFT PLUS / 1850 / 2050 / 2250 LB-FT TORQUE
CAB
1.7M FLAT ROOF DAY CAB
2.3M FLAT ROOF SLEEPER

2.3M AERO ROOF SLEEPER
2.8M AERO ROOF SLEEPER

Open the cab door, and step into the future. Evolved, refined, technologically advanced, the K220 elevates the driver experience in every way.
For more than 50 years Kenworth has been at the forefront of vehicle innovation, durability and productivity, with trucks locally designed and engineered to meet the unique demands of the Australian & New Zealand environment and road transport industry. Building on this trusted legacy, inspired by the potential of proven new technology, the K220 takes everything to the next level. The result is a driver environment that's more intuitive, more comfortable and safer, assisting highly experienced and next generation drivers alike, to perform at their peak. Across every component of every system, Kenworth's commitment to reliability ensures consideration has been given to how each component will function over time. Application engineering, the design philosophy common to every Kenworth, ensures each K220 will also take full advantage of its short bumper-to-back-of-cab length and set-forward front axle, to deliver optimal payloads safely and efficiently. It's an approach that has earned Kenworth an unrivalled reputation for quality – a reputation destined to be enhanced by our new Australian-made K220.
The view from the driver's seat has never been more impressive. The main interface is a 15-inch high-definition instrument panel that provides an advanced driver experience.
Easy to read, intuitive to use, this new digital instrumentation helps reduce distraction by allowing the driver to control how much information is shown when operating the truck— safe in the knowledge the K220 will monitor itself and provide immediate fault alerts, or warnings. The interior boasts a new 8-inch audio visual navigation unit featuring smartphone integration, optional physical gauges, clever storage, and meticulously considered switchgear that falls right to hand. Driver distraction is further minimised by the new and improved SmartWheel, enhancing fingertip control of an expanded range of vehicle functions and settings. At the start of the working day with the simple press of a button, the K220 can perform a comprehensive systems check. Likewise, at the end of the day upon shutting down, the truck will also display a detailed trip and vehicle summary. Moreover, the K220 provides driver performance reports and coaching advice, to help every driver get the best out of the vehicle – and themselves.
NEXT LEVEL SMARTWHEEL
Places the most important vehicle controls – including Digital Display features – instantly at hand with tactile, eyes-on-the-road function choices.
Whether you're on a freeway in peak hour, have only the horizon for company, or are ready to bed down, the Kenworth approach to safety has you covered.
The K220 leverages latest generation image recognition and object detection systems to take collision mitigation and vehicle stability to the next level. Intuitively placed controls, visible warnings and an ergonomic layout allow the driver to better focus on the road ahead. A well-rested driver is a safer driver, so we've made the sleeper better than ever. With more space and freedom to move, a quieter cabin, improved airflow from the new climate control system, and many other enhancements, you'll arrive at journey's end feeling less fatigued. Underpinning all these improvements is Kenworth application engineering, which ensures every K220 is safer by design.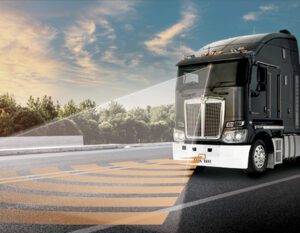 INTEGRATED ACTIVE SAFETY SYSTEMS
The K220 employs a suite of technology features that elevate the driver safety to the Next Level.
Driver Assistance Technologies
Adaptive Cruise Control
Adaptive cruise control can make driving trucks safer and less fatiguing. Integrated with your normal cruise control system, ACC "reads" traffic conditions via front-facing radar sensor and modulates the throttle and the brakes to keep your truck at a pre-set distance from the vehicle in front of it. Then, when the road is clear, the system will re-accelerate the vehicle back to the set speed.
Lane Departure Warning
Kenworth's lane departure warning system helps combat lane drift due to fatigue and distractions. The system continually monitors the truck's location related to lane markings and automatically emits a distinctive audible warning whenever an unintended lane change (unsignaled) is detected — alerting the driver to make a correction.
Side Object Detection
The side object detection system continuously monitors a truck's blind spots and provides the driver with audible and visual alerts when an object or vehicle has entered these zones — invaluable when making a lane change or negotiating tight delivery sites.
Collision Mitigation
Collison mitigation is a feature that is always on, monitoring the road and providing warnings and active braking, even when the cruise control is not in use. The warning will provide the operator with time to react to the situation and potentially avoid a collision altogether. If the driver does not take pre-emptive braking action, the collision mitigation system will apply the brakes in an effort to reduce the severity of a crash.
Strikingly unique. Reassuringly familiar. Front to back, inside and out, the multifaceted design evolution of the K220 is as compelling as its pedigree.
Instantly recognisable with its streamlined, purposeful contours, the Kenworth DNA is unmistakable. Exterior style enhancements combine form with operational benefits: the new aerodynamic roof and side fairings reduce drag; the new wheel arch design better protects the engine bay from road spray; and the new stainless steel grille supports optimised engine cooling. The K220 is available with new LED headlamps with integrated indicators and daytime running lights that can be paired with chrome headlamp surrounds to give the K220 real presence. As you've come to expect from Kenworth, behind the wheel, you'll find a level of comfort and class more in keeping with a luxury car. Spacious, and quieter than ever, the redesigned interior features more legroom and a greater range of seat movement, to help every driver find their perfect driving position. With the new roofline, there's more headspace too. Overhead storage is now triple the size, and the new climate control system delivers 61% more airflow. 2.3m and 2.8m sleeper cabs offer our greatest ever range of optional sleeper storage and bunk options, as well as a 240V inverter, and other personal touches that make this the ultimate home away from home.