KENWORTH C509 - DEFINING DURABILITY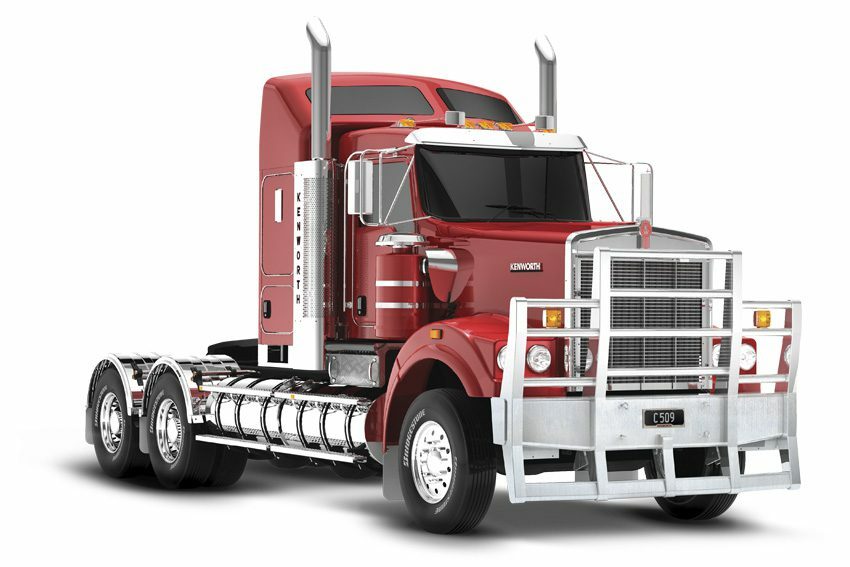 RUGGED, RELIABLE AND TOUGH
With features primarily designed to provide years of trouble free service, the Kenworth C509 proves itself daily in some of the roughest and toughest environments on earth.
The C509 can be configured for very high GCM in mining and off road applications including remote road train, heavy haulage and mine service operations.
Supreme performance, comfort and safety come together in the C509, one of the most durable trucks on or off the road.
C509 — Defining reliability and durability.
MAIN SPECIFICATIONS & OPTIONS
Kenworths work harder for longer, because they are purpose designed for their intended task, then manufactured to those exacting specifications with uncompromising quality, at our world-class production facility in Bayswater, Victoria.
format_qu
ot
CONFIGURATION
• 6X4 standard
• 8X6 optional
ISX EGR ENGINE
• ISX EGR 485HP @ 1650LBFT TORQUE standard
• ISX EGR 485HP – 600HP @ 1850LBFT TORQUE optional
• SIGNATURE EGR 600HP @ 2050LBFT TORQUE optional EXHAUST
• DPF MOUNTED RIGHT HAND SIDE UNDER CAB standard
• DPF POST MOUNTED optional
• DPF MOUNTED UNDER CHASSIS optional
ISXe5 SCR ENGINE
• ISXe5 SCR 485HP @ 1650LBFT TORQUE optional
• ISXe5 SCR 485HP – 600HP @ 1850LBFT TORQUE optional
• SIGNATURE SCR 600HP @ 2050LBFT TORQUE optional EXHAUST
• EGP MOUNTED IN-CHASSIS optional
• EGP MOUNTED RIGHT HAND SIDE UNDER CAB optional
• 170L 625mm DIA UREA TANK optional
• 225L RECTANGULAR UREA TANK optional
FRONT AXLES
Dana E-14621 standard
Meritor FG941 optional
Meritor MFS73 optional
Meritor FL941 optional
format
_q
REAR AXLES
A range of heavy duty drive axle options from Dana and Meritor are available to suit various applications and GCM requirements.
• DANA DSH40P standard
• DANA D46-170 optional
• DANA D50-170 optional
• DANA D52-190 optional
• MERITOR RT40-145 optional
• MERITOR RT46-160 optional
• MERITOR RT50-160 optional
• MERITOR RT52-185 optional
• MERITOR RT52-380 optional
• MERITOR RZ78-188G TRI-DRIVE optional
• SISU FR2P-32 TANDEM optional
• SISU FR2P-48 TANDEM optional
• AXLETECH SPRC1927 optional
SUSPENSION
• KENWORTH AIRGLIDE 400 standard
• KENWORTH AIRGLIDE 460 optional
• KENWORTH KW6-60A optional
• NEWAY AD246/10 optional
• NEWAY AD369/10 for TRIDEM optional
• HENDRICKSON R1000 optional
WHEELS
• ALCOA AND STEEL RANGE OF SIZES
FRONT SPRINGS
• FRONT SPRINGS 7.2T MULTI LEAF standard
• FRONT SPRINGS 8.2T SLIPPER optional
• FRONT SPRINGS 9.1T SLIPPER optional
format
_q
BUMPER
• PAINTED STEEL BUMPER WITH FUPS DEVICE
MIRRORS
• FLAT MIRRORS-HEATED standard
• SPOTTER MIRRORS BELOW MAIN optional
• PEEPER WINDOW LEFT HAND SIDE SPOTTER MIRROR optional
• FLAT MIRRORS-HEATED WITH MOTO MIRROR optional
TRANSMISSION
• EATON RTLO16918B standard
• EATON RTLO18918B optional
• EATON RTLO20918B optional
• EATON RTLO22918B optional
• EATON ULTRASHIFT PLUS optional
• FO-16E318B-MXP
• FO-18E318B-MXP
• FO-20E318B-MXP
• FO-22E318B-MXP
CABINS
Huckbolted aluminium frame with aluminium, steel and fibreglass rivetted construction using aerospace technology. Aluminium bulkhead type doors with continuous piano-type hinges. Cabs are ECEr-29 compliant.
INTERIOR
Cabin appointments including aircraft style instrumentation, colour coordinated trim, woodgrain dash and heavy duty studded vinyl available.
Whichever road you take regarding engine emission technology rest assured you'll make the right choice with Kenworth. Offering the best of both worlds with the option of the Cummins ISX or Cummins Signature with EGR or Cummins ISXe5 up to 600hp with SCR after-treatment.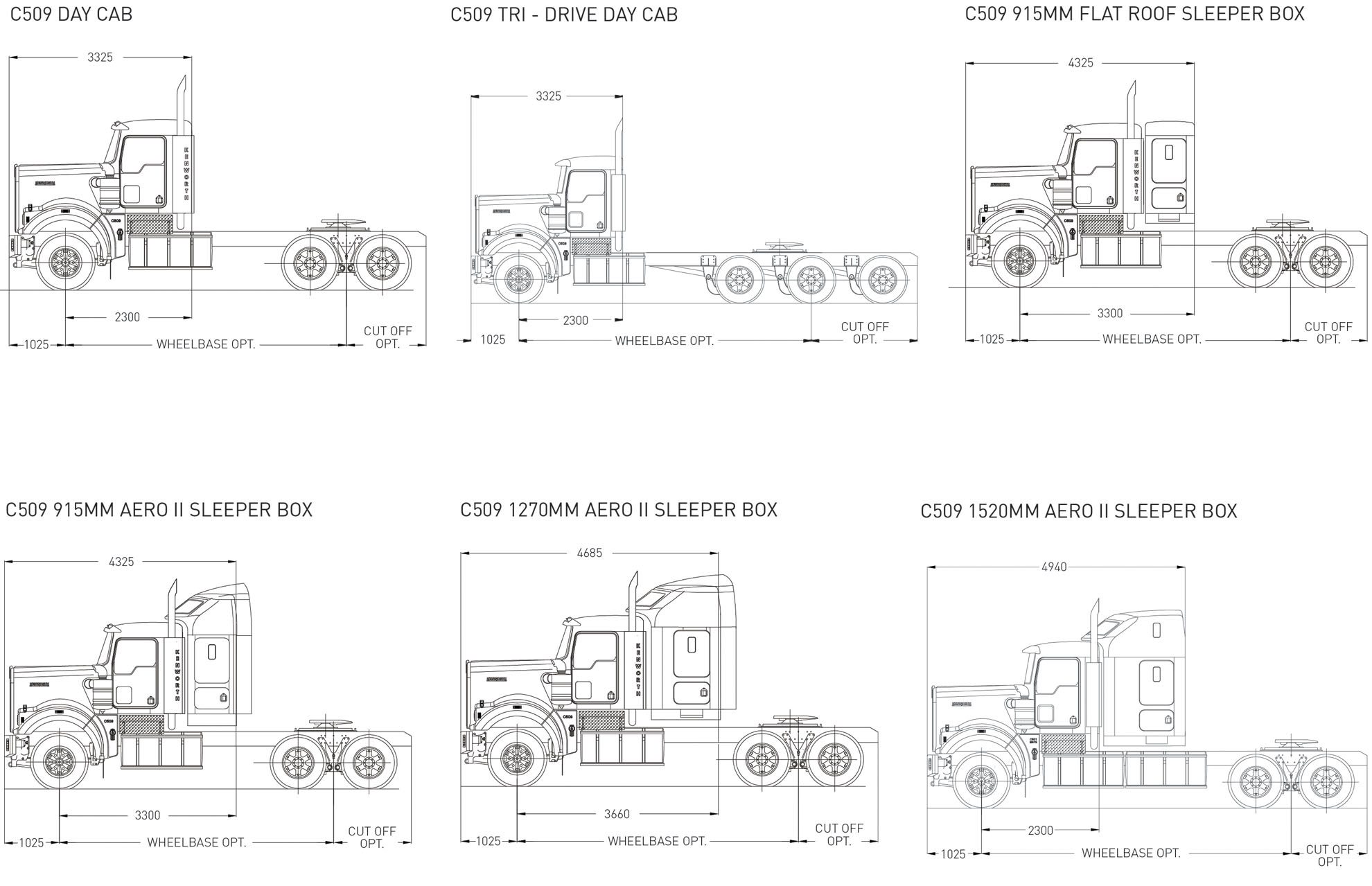 Welcome to our Business Class interior, designed to deliver maximum driver confidence, with comfort and control in perfect harmony.
Classic styling has been teamed with the highest standards of quality and safety in our cab design. The large one-piece curved windscreen offers a commanding view of the road ahead with excellent all round visibility.
An unobstructed view of gauges and easy access to vital switches and controls are provided by the cleverly designed wrap around dash, enhancing driver comfort and minimising fatigue.
Convenient storage, contemporary trim, privacy curtain, a range of seat options and "Smart Wheel" fingertip access for engine brake and cruise functions, all deliver further driver confidence, comfort and control.